It is great that many people love our
NextAction! for BlackBerry
and we even got feedback from the folks at the David Allen Co. for future version. We are constantly looking to improve NextAction! and make everyone's life more productive.
Based on the same approach of easy context (category) handling, we have designed a new application called
ActionPad
. After about 9 months of intensive development and beta testing we finally have this ready for public. Please feel free to take a look at it:
ActionPad for BlackBerry® is the best memo management software available for BlackBerry® Wireless Handheld devices. ActionPad is available for all current BlackBerry® Smartphone models and is full touch-screen compatible. A program download (OTA and Desktop) can be obtained from all major mobile content websites such as BlackBerry App World, Handango, MobiReach, MobileSoftMarket.
ActionPad Core Features
Title & Content Search
1-Click Category Switch
Hotkeys
Share Memos
Memo Encryption
BlackBerry® Integration
Desktop Synchronization
Enterprise Synchronization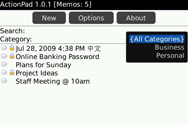 More Information:
ActionPad Product Page »
Presentation:
ActionPad Video »