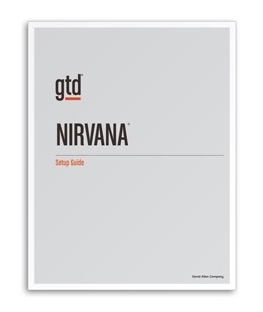 We're excited to release a guide that many people have requested over the years–GTD & Nirvana. This elegant app, built with GTD in mind, is a great option for managing your lists.
This new GTD & Nirvana Guide will show you how to:
– Understand the fundamental GTD best practices
– Optimally configure Nirvana in the way we have found works best for GTD
– Integrate your actionable email
– Create project, next actions, waiting for, and someday/maybe lists in Nirvana
– Manage useful reference lists
– Use tags effectively
… and much more
Available as a PDF download from the GTD Shop.
Not a Nirvana user? We also have GTD guides for many other popular tools we have found to work well for implementing GTD.