The remaining GTD Tools I used to build my Corporate army of GTD Champions.
Date: Wednesday, July 30, 2008 by GTD Times Staff
Even if I had everyone in my organization trained in GTD I couldn't picture people at my office implementing it. Mainly because they didn't have the tools ready and handy in front of them to actually collect and crank their personal widgets. So before I began the training process I went on a several months search to find the perfect set of tools to distribute to all the Senior Management of Vakil Housing.
What tools did everybody need?
Intray/In Basket: We needed An intray/in basket for collection. This was pretty simple to get.
A Personal Collection Pocket Collection tool:We designed a pretty neat one for ourselves. More details here.
Filing Cabinet: I was quite particular that the Filing Cabinet we purchase for everybody would be swivel distance away. We used the Mercury filing cabinet with regular Hanging Folders.
A Calendar or Diary: Some used their mobile phones to store appointments but for most we got them a regular 2007 or 2008 Diary.
List-Management Tool: Finally we needed a system/tool for everybody to manage their Project & Action Lists. This is where I got stuck.
The List Management Tool we needed had to fit the following criteria:
– It had to be portable. Since most of the attendees would be from our Engineering Division or Marketing, they are required to go out of office for work. Hence a Desktop based system (such as Outlook) or Web Based system (such as Remember The Milk) would not work.
– Cost-effective. Yes, it had to be cheap. We were rolling this out throughout the organization. So that knocked out most Digital systems such as Blackberrys, Palms and Windows Based PDAs. (However, subsequently we did hand over Blackberry devices to certain Senior staff members).
– Flexible enough to add/remove Categories: Unlike a Digital System (Blackberrys, Outlook etc.) there's no really neat & tidy way to adjust categories/sections/contexts in paper based systems. Most notebooks with dividers like so many of these don't have tabs. If they do, like this one, they are fixed. So, the problem is that if for a particular Context Say @Calls you may not have too many entries, but you are stuck with the 50 or 100 pages that are below that particular Divider because you can't adjust it.
Finally once again after months of hunting, one of our own employees presented me what seemed like the perfect GTD Tool for us. The Solo 5 subject Notebook:
What made this perfect is:
It's quite portable, Not as big as a Box File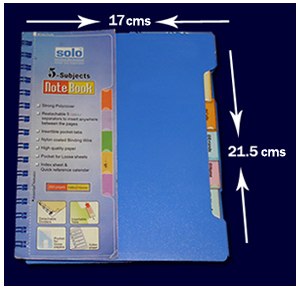 The Dividers are removable! This is such a boon because if you run out of space in one section, you can replace the divider in another place of the notebook and start another section. Or if you know you won't make too much use of a particular section, you can adjust it so that there are not too many pages beneath it.
They're very well microperforated, so the pages tear out quite neatly.
The 5 Dividers Cover most of the Categories required by GTD:
We can add additional sections/categories for additional lists with the help of these 3M Post-it Flags
After discovering this Brilliant GTD Tool, we bought one for all those undergoing GTD Training at our office and we could finally begin our GTD training sessions. How did we go about the training so that almost all Senior Managers at Vakil Housing understand Project & Next Action thoroughly as well as Bring their Inboxes to zero almost everyday?  Stay Tuned for the next post in this Series.
10 Responses to "The remaining GTD Tools I used to build my Corporate army of GTD Champions."