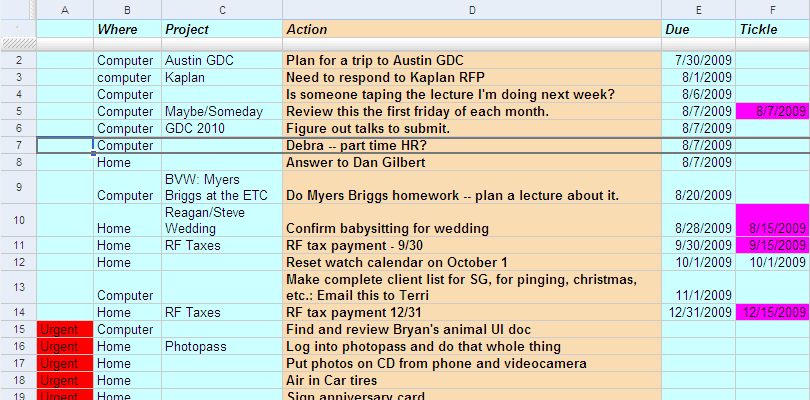 Jesse, a GTD'er in Pittsburgh, sent David a write up about how he's managing his GTD lists in a Google spreadsheet.   The useful thing about spreadsheets for GTD is that they are very customizable and sortable.  Google Spreadsheet also has a handy "Form" feature for quick capture into the form.  Here's what Jesse does:
I know every crank in the world has a version of your system that they use — and I'm no exception — instead of the sets of paper lists your book describes, I have been using a simple Google spreadsheet of tasks with six columns:
Urgent: (a binary column — urgent or not urgent)
Where: (home, at work, computer, in car, etc.)
Project: Which project is this task part of
Action: What to do next on this task
Due: If there is a particular due date
Tickle: If nothing can be done until a particular date, put the date here
I keep all my tasks, tickles, and projects here. If I want to see tickles for today, i sort by the "tickle" column. If I want to see what is due next, I sort by the "Due" column. If I want to see what is urgent, I sort by the "urgent" column, and if I want to see what is up with a particular project, I sort by the project column, which groups all the actions associated with a single project together.
This has been working very well for me, combined with a daily "don't go to bed until you've done these things" checklist, which is things like:
– Empty email inbox
– Empty desk inbox
– Empty voice recorder
Jesse Schell is on the faculty of the Entertainment Technology Center at Carnegie Mellon University, where he teaches classes in Game Design.