A computer programmer implementing GTD asked David Allen about projects: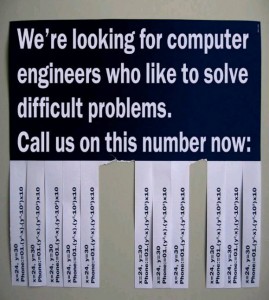 I'm confused about (and I'm sure you are extremely bored with this question, but from the books I couldn't work out the answer) – how do you size projects?  I'm continually having problems working out what is or isn't a project – and getting lost in the confusion.
I'm a computer programmer.   I have to design systems and then build them.   A typical "task" of mine will last 6 months – and involve maybe 800 real hours of my own work.   There will be all sorts of things inside that that can be done simultaneously, things that I have to wait for and so on.  Is the whole thing a project?  Or do I break it into individual projects of do the first screen, do the second screen, do the back end?  
I even have trouble with the concept of next actions – because more often than not nowadays everything is done for you – my task of "build a content management system" – actually becomes "find a content management system" – sitting on Google looking at products, downloading them, trying them etc.    This task could take me anywhere from 5 minutes to 5 days – and I don't have any idea before hand how long it might take – most of what I do is investigative.  For instance, "fix the credit card processing" –  that's my task – but at first I don't know what's wrong with it – I have to try things until I do find out – and it could easily take me the next 8 hours solid work just to identify a problem, or I might find it right away.
GTD seems to work brilliantly if I have lots of tiny jobs to do and keep track of (such as in my personal life) – but in my professional life I can't figure out at all how to integrate the concepts of projects being composed of many sub-projects and more importantly of tasks of which the duration is completely unknown and unpredictable.
Any suggestions you could give me would be greatly appreciated.
David's reply:
Good questions, and my answers are likely going to be simpler than you think.
First, anything you can finish in a few months needs to be reviewed at least once a week – that's why I call them "projects", so they sit on that list and get looked at with rigor during the Weekly Review. If they're as complicated with sub-projects as many of yours likely are, then you just need to drill down another level in the Weekly Review on each one, identifying the "moving parts" – i.e. the ones that are not dependent right now – and ensure that you have next actions on each one, as appropriate.
"Next action" doesn't mean short – it just means that you know exactly where the action happens and what it looks like. So it could be a 20-hour action – you're just clear that it's at your computer it moves forward instead of the hardware store.