One of the categories of Action lists David Allen recommends in Getting Things Done is "Agendas." This is a great category for tracking items that you want to discuss with people or teams you meet with regularly. Your Agendas lists become a trusted parking lot for things to bring up the next time you have the opportunity to have a discussion. Many people will use Agendas for the staff they manage, and for the manager they report to. Agenda lists can also work well for family members and recurring team meetings.
Here's how Community Contributor Meghan Wilker uses them:
In the workplace, one of the best ways to distinguish yourself is by being effective. And, in this era of constant — and I mean CONSTANT — interruption, one of the best ways to be effective is to be strategic about how you communicate with others.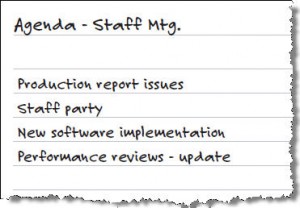 Humanity has been stricken with several email-related diseases over the past few years. Two in particular are insidious contributors to the interruptive environment.
The first is what I call "Forward-itis." This affliction causes people to forward every email they receive without pulling out the important points, or thinking about who should really get them. These emails are often accompanied by the dreaded label, "FYI. Read below."
A related, and often concurrent, condition called "High Priority Hyperbole" causes one to believe that every email they send deserves a few extra exclamation points.
These bad habits, combined with instant messages, texts, tweets, and meetings mean that we can get trapped in a near-constant state of reactivity. I mean, gosh, look at those exclamation points on that email! We really ought to respond quickly right?! Not always. It's just not effective for us, or those around us.
Enter the Agenda
The agenda is one of the unsung power tools of GTD. With agendas, one captures everything they need to talk to a particular person (or group) about so that when we are in the presence of that person, we can remember all the things we need to say.
Why is this so powerful? In this age of ever-present interruptions, an agenda allows you to thoughtfully gather everything you need to say, which can greatly reduce the stress you place on yourself, and on the person you need to talk to. It's really just a specialized form of a list — and we all know how great a good list can be.
Agendas at Work
Throughout the day, issues come up that I need to ask my boss about. Instead of bugging her about each one (in person or over email/instant messenger), I collect those items onto an agenda and — at least once a day — check in with her, run through my list, and move on. What's important is that I don't forget to talk to her about things because they're all collected on an agenda. If our time gets cut short and I can't get to something, it stays on the agenda until we have time to talk about it.
If something comes up that doesn't require us to speak face-to-face, I can still use the idea of an agenda and gather topics into one email (instead of peppering her with 50 emails a day).
Another way I've implemented this agenda/list approach is by gathering all of a client's "high-priority" emails and sending a single reply at the end of the day. This doesn't always stop the tidal wave of exclamation point-riddled emails, but it can curb them a bit (and my client appreciates my organized approach to their barrage of emails). More importantly, it helped save my time, and my sanity.
On the flip side, as a manager I deeply appreciate the people who report to me who do the same. I feel like they respect my time, because they aren't coming in my office every 5 minutes with a new question. What they are telling me is that they can proactively manage both their time, and mine.
Dropping by someone's office every two minutes (or forwarding them an email at the same frequency) indicates an inability to manage oneself effectively. And a huge part of being an effective and noticeable employee is the ability to manage oneself.
So, agendas. Give 'em a try. You may be surprised at the huge impact you'll see with such a seemingly simple tool.